THE JOURNALISM OF JOHN STAPLETON
This blog collects the journalism of John Stapleton from the 1970s to the present day.
Thursday, 2 September 2027
Friday, 16 April 2021
The Photography of Palani Mohan
Every year their numbers drift inexorably towards zero.
Deep in the wilds of far western Mongolia are the last remaining Kazakh eagle hunters. The burkitshi, as they are known in Kazakh, are proud men whose faces echo the harshness of the beautiful, barren landscape they call home.
They have a remarkable bond with the golden eagle, which to them represents the wind, the open space, the isolation and the freedom found at the edge of the world.
Australian photographer Palani Mohan has spent years documenting the noble hunters, but says only 60 remain, and fears the ancient tradition could disappear within 20 years. Along with them perishes a unique way of life.
Young people are uninterested in the tradition and increasingly migrating to cities, like the polluted Mongolian capital of Ulan Bator.
Here are excerpts from the Hunting With Eagles: In the Realm of the Mongolian Kasakhs and samples of Palani's magnificent photography.
During the long winters, the eagle hunters leave their homes and head into the mountains on horseback to hunt foxes — a tradition said to stretch back as far as 940 AD.
This way of life, which has lasted for centuries, is rapidly disappearing.
"There are about 60 of the true hunters left, and each winter claims a few more because winters are incredibly brutal. And they're getting old, and every winter about two of them die," Mohan says.
"It's important not to forget about people like these eagle hunters on the edge of the world."
It is not just the bitter cold threatening to wipe out the eagle hunters.
"I've spoken to a lot of teenagers, men and women, and they want to wear jeans and go into town and listen to music and earn money. The eagle hunting is a lonely, cold, old way of living and like all teenagers they want the new modern thing," Mohan says.
"Ulaanbaatar, the capital, is a very long way away but that's where a lot of people head. People are going to Russia or Kazakhstan."
Mohan, who was born in India and grew up in Australia, cut his teeth as a cadet with The Sydney Morning Herald. It was then that he first saw a photograph of an eagle hunter.
"Where on earth was Mongolia, and how could men tame eagles? I was desperate to go, but for 25 years I did nothing about it."
But finally Mohan set out to photograph every remaining Kazakh eagle hunter.
"At first it's cold and there's no-one there, and it's very desolate. Eventually after many days of asking people you find one," he says.
"One eagle hunter would take me to another eagle hunter, and so it goes. But sometimes you have to drive for a couple of days to find the eagle hunter."
He thinks he has fulfilled his dream of "finding them all", though admits "you can never be sure".
Mohan found the solitude and space of Mongolia very affecting, but that was not the only challenge.
"I hate the cold, and I am mainly vegetarian, so I was all wrong for this job. It's by far the hardest thing I've ever had to do physically, and professionally," he says.
"It is -40 degrees, it's Hell on Earth. My eyes were constantly watering, which in turn would freeze, and it's very painful.
"And my camera gear would completely collapses. Batteries have a real issue with the cold. I used to go to sleep with the batteries taped to my armpits and other warm parts of my bodies, just to keep it warm.
"When I needed to shoot I would stick my hands down my shirt and rip out the battery, and it would have hopefully a couple of minutes before the battery completely drained.
"And its very difficult to work with six pairs of thermal stuff on, and big jackets on, so it's hard work. It's very difficult to operate gears and buttons and cameras and so on."
But he says the pain was worth it if his photos help people remember "people like these eagle hunters on the edge of the world".
"It is the bond between hunter and eagle that fascinated me," Mohan writes in the book. "All the men I've spoken to describe the eagle as part of the family, even as their own child. The hunters all had stories about how they loved all their birds even more than their wives. And there's a Kazakh saying that if a hunter's father dies on the day the snow starts to fall, the hunter won't be at the funeral because he'll be up in the hills with his eagle."
This intense relationship begins when a hunter takes an eaglet from its mother and back to his own home, promising to "love [the eagle] as his own." There, he shrouds the bird with a leather hood (tomaga) to keep it calm, and begins hand-feeding it horse and yak meat. Once the bird learns to trust its feeder, it goes on its first hunt, which Mohan describes in the book.
The golden eagle is a perfect predator, with an awe-inspiring [eight-foot] wingspan. A fox is easy prey, and when hunting in pairs, eagles are capable of bringing down a wolf.
The birds are calm and exude confidence when they head into the hunt. After the tomaga is lifted from its head and it sees the fox in the valley below, the eagle takes its time waiting for the right moment. Then, without warning, it will raise its wings and dive like a bullet, leaving a rush of air in its wake as the hunter makes a screeching sound, urging it on.
Within moments the eagle reaches its prey, sinking its claws through the fur and skin. Fox meat makes a welcome winter meal for the hunter and his family, while the pelt is kept as a trophy or made into hats and other items of clothing.
Golden eagles live till around 30 years of age, and are released back into the wild at about 15.
The hunters and their families wear their fur pelts proudly, along with elaborately embroidered robes and coats.
Golden eagles are like no other bird. They want to be with you. They love you. And they love to kill for you.
When the time comes to let them go, it's the hardest thing a man can ever do. … I've had more than 20 eagles in my life. Last year I released my last eagle back into the mountains. It was as if a member of my family had left. …
This tradition is dying, and there are fewer and fewer old hunters these days. You can have an eagle, but that doesn't make you a hunter.
In the old days, if you didn't have an eagle next to your home you weren't a real man. …
The young generation today aren't interested, and there are many things that keep them busy, such as earning money and listening to music.…
We should train our children to keep this tradition alive. This is who we are. To the young I would say: the golden eagle is a holy bird; treat eagles as your children. Love and respect them. If you do this, they will give everything back to you.
RELATED SITES:
THE TED TALKPalani Mohan – Photographer | videos | 1
Palani Mohan's Ted X talk at the Sydney Opera house in front of 3000 people on his bookwww.palanimohan.com
EXTENDED RADIO INTERVIEWPalani Mohan
The last eagle hunters of Mongolia through the lens of Palani Mohan.www.abc.net.au
PALANI MOHAN'S WEBSITEPalani Mohan – Photographer
Palani Mohan is an award-winning photographer based in Hong Kong.www.palanimohan.com
---
Written and compiled by John Stapleton, editor of A Sense of Place Magazine. A collection of his journalism can be found here.
TODAY'S FEATURED BOOKS
By Paul Gregoire: Sydney Criminal Lawyers Blog.
"This shows how our government facilities and systems will treat you if your skin colour is black," declared Dunghutti activist Paul Silva at the 10 April Stop All Black Deaths in Custody Rally in Sydney. "They thrive on systematic racism and it's killing our people."
Just like African American man George Floyd, Dungay called out that he couldn't breathe over and over until it was no longer possible. But the 26-year-old Dunghutti man didn't have a knee on his neck, rather he had multiple officers pressing on his back as he was held down in the prone position.
As he addressed the crowd in Djarrbarrgalli-the Domain, Silva was referring to the NSW DPP and SafeWork NSW having rejected his family's 2020 request to open a criminal investigation into the killing of his uncle David Dungay Junior at the hands of Long Bay prison guards in December 2015.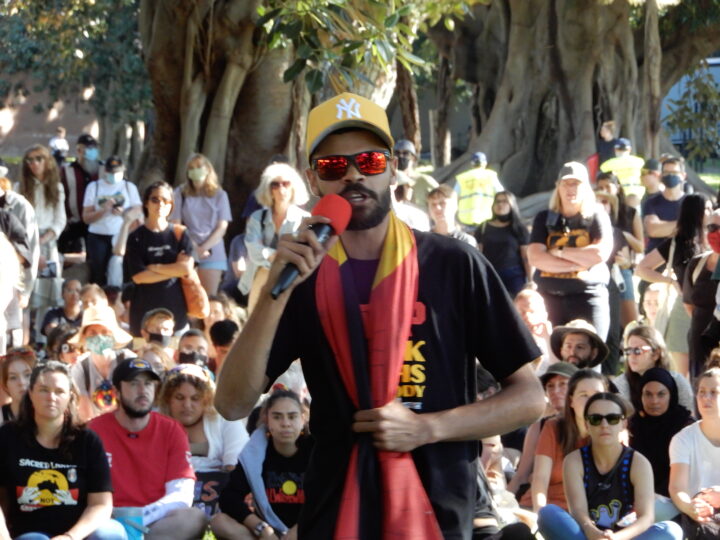 Dunghutti activist Paul Silva
David's death is one of at least 474 First Nations custody deaths since the Royal Commission into these fatalities tabled its report on 15 April 1991. The rally was marking its 30th anniversary, as well as the current vision for change, which has intensified since last June's Black Lives Matter uprising.
"Instead of killing us out in mass numbers," Silva continued, "they're killing us behind closed doors because they know the government will allow them to get away with the brutality and killings of First Nations people in custody."
Coming recommendations
As she opened the rally at Sydney Town Hall, Gumbaynggirr Dunghutti Bundjalung woman Elizabeth Jarrett noted that while many that morning had been discussing the death of Prince Philip, the silence surrounding the recent five Aboriginal deaths in custody within a month was deafening.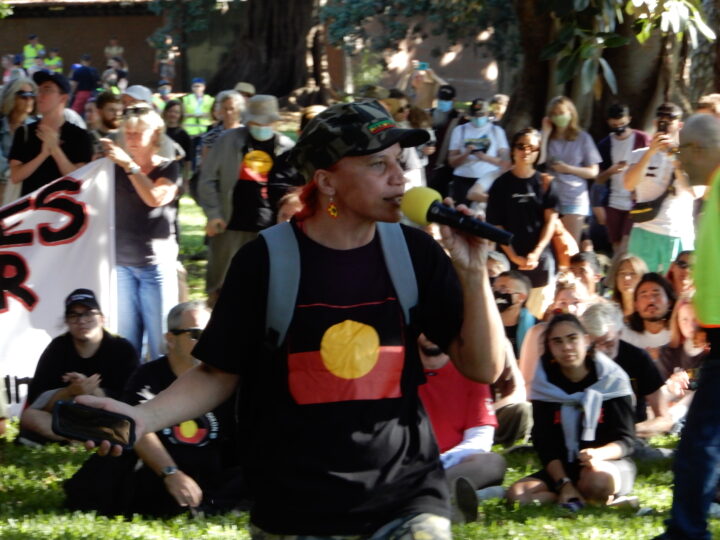 Elizabeth Jarret MCing at the rally
And while all of these deaths have been condemned, one stood out for particular consternation as it involved a 44-year-old Aboriginal woman taking her own life by hanging, despite the 165th Royal Commission recommendation stating hanging points should be removed from all cells in 1991.
Established in 1987, the national inquiry into First Nations custodial deaths handed down 339 recommendations, most of which have never been implemented. However, these overlooked reforms often resurface as issues within the findings of coronial inquiries.
While marking the three decades since the commission, the rally was also a march of anticipation, as the NSW parliamentary inquiry into First Nations overincarceration and custodial deaths is set to table its report with a fresh set of recommendations on 15 April this year.
Having initiated the new inquiry, NSW Greens MLC David Shoebridge noted at the 2021 Invasion Day rally that if it wasn't for the tens of thousands who mobilised in support of Sydney's 6 June 2020 Black Lives Matter rally, he wouldn't have been able to convince parliament to establish it.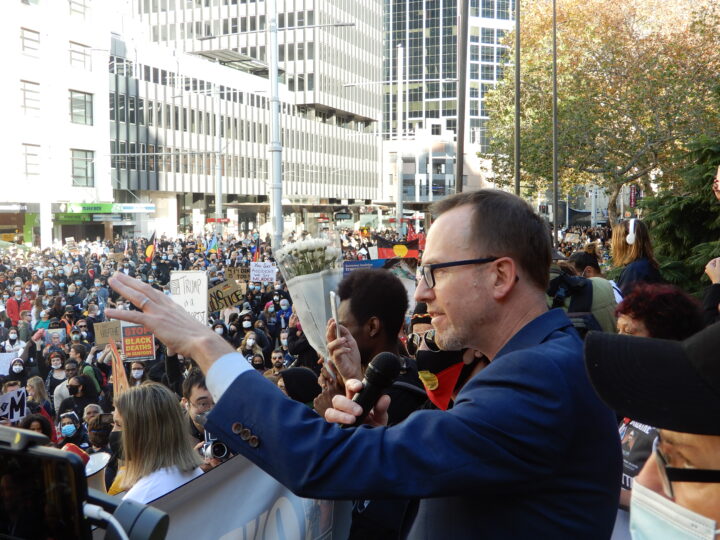 NSW Greens MLC David Shoebridge
The math is not that simple
As First Nation's custodial deaths have received a heightened focus over the last ten months, there have been a lot of comments appearing on social media along the lines of, why are we talking about Aboriginal deaths in custody, when there are more non-Indigenous custodial deaths?
So, Sydney Criminal Lawyers would like to take a few inches to address these assertions.
The National Deaths in Custody Program outlines that over the financial year 2018-19 there were 89 deaths in the custody of either police or corrections. And of these 73 were non-Indigenous, while 16 were First Nations.
However, these figures taken alone fail to tell the full story.
The 2016 Census found that Aboriginal and Torres Strait Islander peoples represented 2.8 percent of the nation's overall population. Of the 24 million people living on this continent, just over 649,000 are First Nations people. And custodial deaths are making a deep impact on this small population.
"These deaths aren't invisible to our communities. They are highly visible," Dr Chelsea Watego told the ABC last week. The academic also noted that the system disproportionately locks up First Nations people for matters that non-Indigenous people often aren't imprisoned for.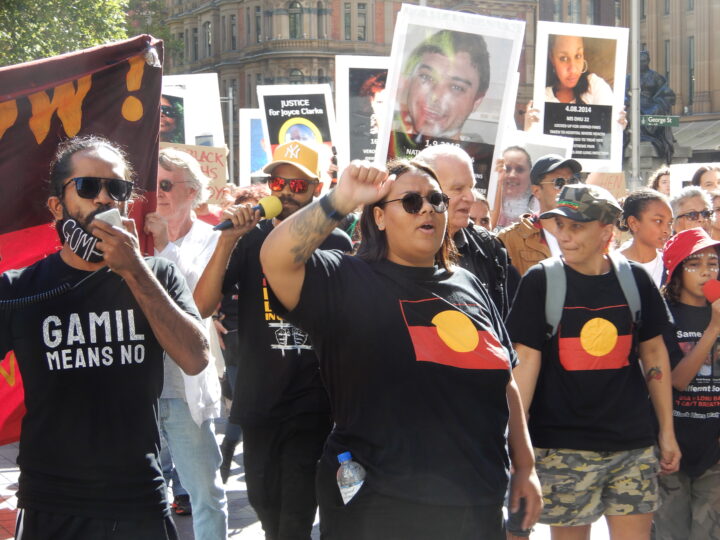 The March for Justice
Aboriginal and Torres Strait Islander people are more likely to be arrested, than the non-Indigenous. They are more likely to be imprisoned. They are more likely to be arrested and imprisoned over minor offences. And First Nations are more likely to be denied bail.
This systemic bias leads to stark overrepresentation in the prison system. ABS custody statistics for December 2020 reveal that First Nations people – less than 3 percent of the nation's total population – account for 29 percent of its adult prisoner population.
As well, Indigenous people enter into a prison system run by the invading force. A history of colonialism continues to see Aboriginal people brutalised and discriminated against on the inside. And the prison system all too often neglects their health needs.
Indeed, Aboriginal and Torres Strait Islander inmates are treated differently to the rest of the prisoner population. Just watch the footage of the treatment David Dungay Junior, Wayne Fella Morrison or Ms Dhu were all subjected to in detention.
At last Saturday's rally, the message was clear: too often are First Nations people entering the police and prison systems and coming out in body bags. And no one is ever held to account.
Say their names
Uncle Dave Bell brought the Stop Black Deaths in Custody march to a halt at the Sydney CBD intersection where College Street meets Prince Albert Road. And the Wiradjuri elder had the mass of protesters repeat the names of Aboriginal people who have lost their lives in custody.
These names included Eric Whittaker, David Dungay Junior, TJ Hickey, Tane Chatfield, Rebecca Maher, Patrick Fisher, Nathan Reynolds, Eddie Murray, Veronica Baxter and Wayne Fella Morrison.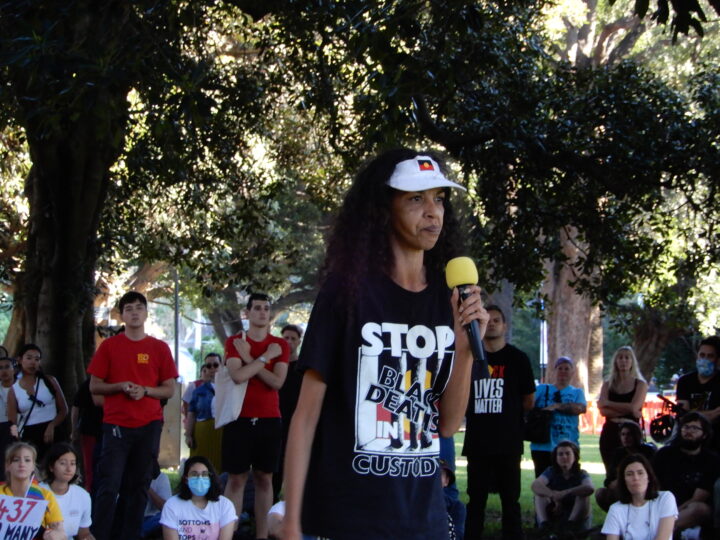 Gomeroi activist Gwenda Stanley demands tangible change
In addressing the crowd late in the day, FISTT (Fighting in Solidarity Towards Treaties) spokesperson Gwenda Stanley asserted that there ought to be more discussion around Royal Commission recommendations 334 through to 338, as these address sovereignty, treaty and land rights.
"How do you expect to heal, and our country to heal, when you keep removing and forcing us from Country?" the Gomeroi woman asked.
The recommendations Stanley pointed to set out that all jurisdictions should address the land needs of Aboriginal people, with unalienated Crown land being handed over to those who have a claim, so they control it. This should also be done with former Aboriginal reserve and mission land.
Where land can no longer be handed over due to the effects of colonisation, then land needs should be met via other means, including the provision of adequate funding. And recommendation 335 recognises that until land title is forthcoming, First Nations standards of living won't improve.
"We have had enough of reconciliation. It is time now to draw the line," Stanley made clear. "It is time now to start talking treaty. It is now time to start making reparations."
"It is now time to start paying for the war crimes in this country."
Incomplete Strategy and Niche Contributions — Australia Leaves Afghanistan After 20 Years
By John Blaxland, Australian National University.
Prime Minister Scott Morrison has declared Australia will withdraw its remaining 80 troops from Afghanistan by September, marking the end of its longest involvement in a war.
This follows President Joe Biden announcing the United States will leave Afghanistan by September.
The path to this point has appeared inevitable for years. Ten years ago, journalist Karen Middleton highlighted the futility of the counterinsurgency campaign in her aptly-titled book, An Unwinnable War.
High hopes dashed
Back in 2001, it all seemed so different. Only weeks after the September 11 attacks, Australian special forces deployed to southern Afghanistan alongside US, Canadian, British and other NATO troops to defeat al-Qaeda, who was hosted by the then-Afghan government, known as the Taliban.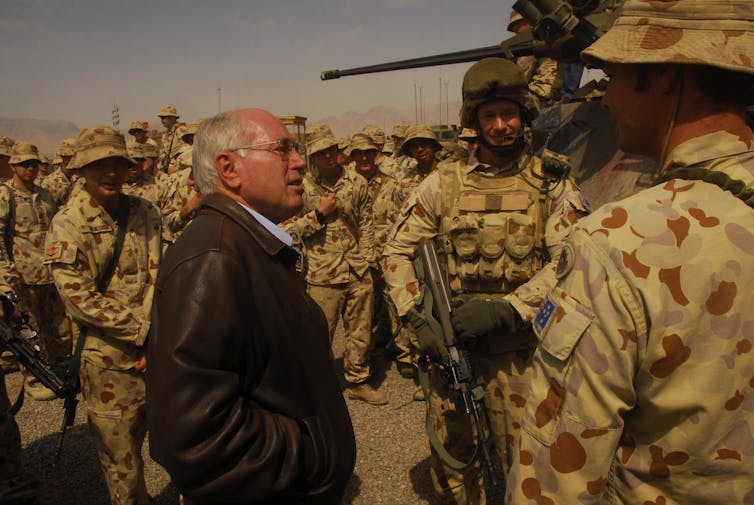 After dusting off their boots and leaving in early 2002, Australian forces were drawn back in 2005 with a special forces task group. This was followed by an engineering reconstruction task force that over time morphed into a mentoring task force, intended to help the Afghan national security forces establish law and order.
But without a clear strategy for effective governance and widespread corruption, the Taliban returned with a vengeance. The mentoring created opportunities for so-called "green on blue" attacks, which contributed to the deaths of a number of Australians.
By 2014, 41 Australian soldiers had been killed. Many understandably wondered: was it worth it?
Australia's niche approach
Australian politicians and policy makers were always risk-averse about the commitment. Eager to avoid casualties on the scale of Australia's involvement in the Vietnam War (where 500 Australians were killed), successive governments opted to make niche contributions that relied on critical support and leadership from US and other allies.
But never wanting to manage everything itself left Australia vulnerable.
For example, Australia handed detainees to Afghan authorities who, soon enough released them. Some of these, it appears, ended up fighting against Australians again.
With special forces, in particular, undertaking rotation after rotation, operating without a compelling strategy and running into such characters repeatedly would have tested their resolve to operate ethically. In this context, it is not surprising their actions have generated enormous controversy addressed in the Brereton Report.
---
Read more: Allegations of murder and 'blooding' in Brereton report now face many obstacles to prosecution
---
Building ADF skills and experience
Defenders of Australia's engagement in Afghanistan reflect on how the operational experience has honed the force. It enabled the components of the Australian Defence Force to sharpen their skills, refine their procedures and improve their capabilities. This includes the acquisition of advanced American military technology seen as crucial for an (at least partly) self-reliant defence posture for Australia.
Having a capable and sharp-edged defence force is a worthy goal. The question still remains whether the price was justified.
---
Read more: As the US plans its Afghan troop withdrawal, what was it all for?
---
The lack of involvement in international strategy formulation left Australia vulnerable to incoherent policy-making and planning by US political and military leaders. This may not affect Australia directly. But America's US$2 trillion dollar expenditure on the campaign points to a spectacular failure of political and military leadership.
Back in 2001, the so-called "unipolar moment" — with the US as an unchallenged superpower — seemed enduring. Two decades later, a three-pronged series of challenges relating to great power contestation, looming environmental catastrophe and a spectrum of governance challenges (including terrorism, people and drug smuggling, and corruption) suggests the Afghan project distracted many countries — including Australia — from addressing other more pressing global issues.
There were other options
This does not mean the complete withdrawal was the only possibility. There could have been a compromise arrangement to protect the rights of women and institutions of Afghan civil society. This would have required buy-in from neighbouring states including the "stans", India, Russia, China and Iran, let alone the invested European powers.
But Biden's declaration of withdrawal has emboldened the Taliban and makes any such outcome now virtually impossible to secure. Indeed, with al-Qaeda and the so-called Islamic State resurgent, we may come to deeply regret not persisting with maintaining a modest foothold there, akin to the level of support provided by NATO that has endured in the Balkans for decades since the war broke out there in the 1990s.
Most of our work now lost
As we look back, Australia did work to improve the lives and livelihoods of the people of Afghanistan, particularly in Uruzgan province, where Australian forces were stationed from 2005—2013.
However, most of that work has now been lost and many of Australia's interlocutors there killed, intimidated into submission or chased away. Some, thankfully, have made it to Australia as refugees.
We owe it, particularly to those who worked with Australia, to offer them a better future, including by inviting them here and welcoming them, much as we, belatedly, took in refugees fleeing from Vietnam after that war ended.
Meanwhile, in Australia, the price is still being paid for an incomplete strategy, with ongoing trauma for our veterans and their families and lives being lost.
John Blaxland, Professor, Strategic and Defence Studies Centre, Australian National University
This article is republished from The Conversation under a Creative Commons license. Read the original article.
Thursday, 15 April 2021
Boy On Fire: The Young Nick Cave Shortlisted For Australian Biography Of The Year.
The Mark Mordue Interview
There is one book birthed out of Australia this season which has all the hallmarks of becoming an international bestseller, and that's Boy On Fire: The Young Nick Cave.
Author Mark Mordue is a classic journeyman of Australian rock and cultural journalism, having struggled to patch together a living writing from small magazines and mainstream newspapers for decades now. As any freelance journalist will tell you, no matter what your talents or dedication turning a passion into a lucrative career is nigh near impossible.
And then along comes Boy On Fire, years in the making and distilling the life of not just the subject, the redoubtable Nick Cave, but Mordue's own life, sentiments and struggle.
Having been "snapped up" by a mainstream publisher, HarperCollins under its imprint Fourth Estate, Mark Mordue has editorial and marketing genius behind him and is staring the gun barrel of success straight down the throat.
As for the book: It's copping rave reviews at every turn, both in Australia and around the world.
"It's like something I'm imagining rather than a reality," Mark Mordue told A Sense of Place Magazine. "I feel strangely undeserving of it all and am only coming to terms with its success because of the long struggle to bring the book to life."
With a living subject like Nick Cave, whose ever expanding body of work has made him one of the very few Australians to achieve true international fame, from the outside it looks like Mordue had a classic journalistic problem: he knew too much, and there was no point where a line could be drawn.
But that's not the way he sees it.
"My original publishers were expecting a full A-Z biography of Nick Cave. I signed that contract in 2009. Finally got going 2010. It was expected to happen within two years. That was ridiculous. Then three, four.
"The more the deadline blew out the more horribly obvious it became that I was way way way behind.
"I tried to suggest the project could be broken into two or three books. They wanted the whole thing or nothing. In the meantime I was in a situation where I had spent all my advance. If I worked on the book I had no money. I had three young kids I was struggling to support. When I would then freelance and teach writing at uni I'd be failing to work on the book.
"No matter what I did I was being an asshole or a loser, mostly to my sense of self.
"After that it all fell in a heap. And I had some sort of breakdown; the whole thing crushed me."
Nick Cave is a polarising figure, and through the book's long gestation Mordue recalls that travelling to Melbourne to interview people who knew him in the early days "became a real drag".
"On some sites Nick is treated like Jesus, and on others there are people who are looking to smash the idolatry and hate everything about him.
"Any icon is excessively adored and overly hated."
Mordue says amongst Nick's early acquaintances, people involved in the overlapping scenes of inner-city Melbourne in the 1970s, people were suspicious, and a significant number wanted assurances that he was either entirely in Nick's camp or ready to tear down the icon as nothing but a fake.
"There was no notion that I wanted to write a book that was complex and paradoxical, critical and respectful. It's the same problem we have now with Facebook. People expect you to be for or against. That is way too simple.
"I wanted Boy On Fire to be both a good solid history and work of journalism but also a really fine and interesting literary work, and push at the frames of what people might expect from a rock biography. Let's face it, those expectations are mostly pretty low.
"The fact of the matter is I was never Nick's servant – but I wasn't his assassin either. People seemed to think I had to be one or the other, and worse still, found it impossible to conceive of any other reality."
After years in some sort of internal and external exile, the previous book contracts were cancelled and Mark negotiated a new contract with HarperCollins Australia and Atlantic Books in the UK.
"The new contracts cancelled out my old debts and obligations. Which was great. But it was about much more than that. I owned my writing again and all the work I had already done. I have to give credit to the editors at HarperCollins. They were fantastic. They helped me refine and reframe the project, and concentrate on my idea of a Portrait of a Young Artist. They made it a much better book than even I ever imagined or fantasised it could possibly be."
With the young Nick Cave, whether you were fans or flame throwers, there was one thing everybody always knew about him: drugs.
For a subject so ripe for tabloid exploitation, the question is explored with remarkable good taste.
"I started to read the Keith Richards biography, and it opened with some drug story or other, and the story was so boring.
"I thought, was that the best you can do?
"What I loved about the Richards biography was all the stuff when he was a young kid listening to the radio. There was something beautiful and special about it which supported some of the ideas I already had for the Nick Cave book.
"It's easy to be sensationalist about it, and drugs definitely influenced the music, and the way they evolved from The Boys Next Door into The Birthday Party.
"You can definitely hear the nature of speed and heroin on the EP Hee Haw. Drugs are part of the aesthetic, but they're not the only part of the story.
"I was interested in how drugs drive and fuck up social scenes, because I have seen that happen amongst friends of mine.
"I was interested in the dreamlike hyper energy amphetamines bring to things, and from what I understand of heroin, the strange warmth of it as a cocoon or defence from the world. Not to mention the withdrawals and what they do to your nervous system and personality."
Nick Cave and his fellow band members, including Mick Harvey and Rowland S Howard, were barely into their twenties when they made the move from Melbourne to London, and to fame, accomplishment and stellar careers in a turbulent gothic world.
Cooler than cool in a country not their own, they appeared to disown their early origins, at least in terms of their musical careers, and to look back on The Boys Next Door as mostly embarrassing or underdeveloped.
But the band were wonderfully energetic, a great live act, and Nick Cave's performance scorched across Australia's rock and roll scene of the time with brashness, exuberance and talent.
"The Boys Next Door live were a great band," Mordue says. "You can see on YouTube the seed of their evolution. They were eating up influences like nothing on earth. They evolved so quickly. They were devoluring drugs, films, literature, and in the end they devoured each other in The Birthday Party. Maybe they are not so well served by the recordings, including their first album Door Door.
There's some good moments on that record and Hee Haw. Maybe they cringe at or are embarrassed by it. I don't think they should feel like that. Songs like 'Shivers' and 'The Hairshirt' would do any young band proud today. "
There is much more to Boy on Fire than just another rock biography. Mordue says he always regarded the project as a social biography; with Nick at the centre of a kaleidoscope of stories.

For once the blurb is correct: "As well as a powerfully compelling biography of a singular, uncompromising artist, Boy on Fire is a fascinating social and cultural biography, a vivid and evocative rendering of a time and place, from the fast-running dark river and ghost gums of Wangaratta, to the nascent punk scene which hit staid 1970s Melbourne like an atom bomb, right through to the torn wallpaper, sticky carpet and the manic, wild energy of nights at the Crystal Ballroom."
Mordue is clear about the Australian nature of the project.
"One of the motivators for the book and one of the things that make me angry is how easily we in Australia erase or annihilate our own culture and history. There is a complete lack of respect or interest. We look overseas to validate ourselves and we overlook or are dismissive about our own history.
"Particularly in regard to rock and roll we don't even understand that it is history. We don't rescue or save it.
"I wanted to rescue that time and that scene. I was definitely aware the book was not just a biography but a history of all the artists and people's lives, the history of a town like Wangaratta, where Nick grew up, and later punk and post punk Melbourne."
"Personally I could relate to that time in Australia and all the things that were coming into Australia, and the suburban landscape and the country landscape that Nick came from. There were a lot of parallels in all of that to my own life.
"Boy On Fire is absolutely a biography about an Australian artist and an Australian scene. To my own way of thinking it should sit comfortably on a bookshelf beside biographies of Brett Whitely, Patrick White and Germaine Greer.
"From Nick Cave's perspective, The Boys Next Door is a transitory phase, juvenalia. They were a really fine young band, and it was the start of something special.
"Nick has become a major international star now, but they were a real band, a really potent group of people. The Birthday Party would prove how true that was.
"My point is that Nick was a socially formed artist, and that the influence of all the people around him – in the band, and around the band, as well as growing up earlier in country Victoria – had a very big influence in where he was to go."
Mordue writes in the Prologue: "This book keyed itself in to Nick Cave's childhood and youth, from Wangaratta to the Crystal Ballroom scene in Melbourne, through the early landscapes, novels, artists, loves and friendships that shaped him. Much of which Nick would continually refer to in his songs, books, poetry and films.
"What emerges in this biography is a remembering of that world. Not just Nick Cave's story of growing up, but the memories and stories of all those around him. The life and times of a boy on fire, with all that he absorbed in order to dream himself into becoming one of the darkest, and then one of the brightest, of our rock 'n' roll stars. Light enough for the many to share."
So what does the older Nick Cave, now a much awarded and applauded man in his sixties, think of it all?
"No idea. Guess I'll find out. He'd have to feel mixed about it, I think. Who could read a book about their growing up and formative years as an artist, written by someone else, and not feel mixed at best.
"I know there's stuff in the book he will not like; things he might appreciate, the writing along with that I'd hope; and things he may not know how to respond to or even recognise, not to mention things he'd say were plain wrong.
Biography is a story. It's full of tensions between the facts and different people's versions of events and the telling of a story and how the teller shapes it. It's history and fictional techniques, journalism and performance, all together. Hopefully it gets to what is true in feeling as much as detail. I did my best to do both. But there's always another story to be told."
---
This story was written and compiled by veteran Australian journalist John Stapleton. A collection of his journalism is being constructed here. A 1979 interview with Nick Cave and Rowland Howard can be found here.